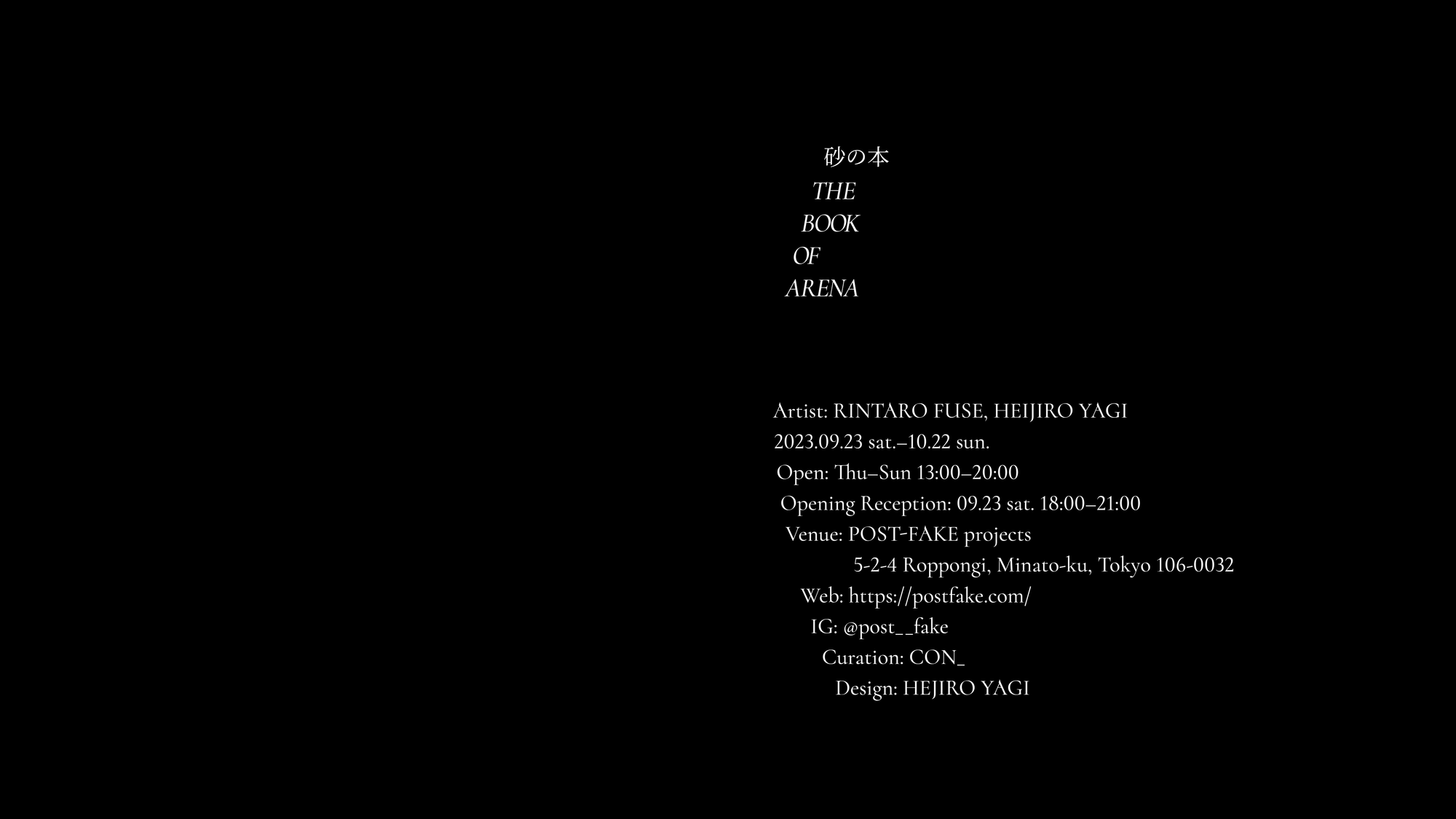 THE BOOK OF ARENA at POST-FAKE projects

CON_ is pleased to announce the joint exhibition "THE BOOK OF ARENA" by artist Rintaro Fuse and designer Heijiro Yagi at POST-FAKE projects (3F, 5-2-4 Roppongi, Minato-ku, Tokyo 106-0032). This exhibition is curated by CON_ (4F, Maruka Building, 2-2-14 Nihonbashi Bakurocho, Chuo-ku, Tokyo) and will be held from September 23rd (Saturday) to October 22nd (Sunday), 2023.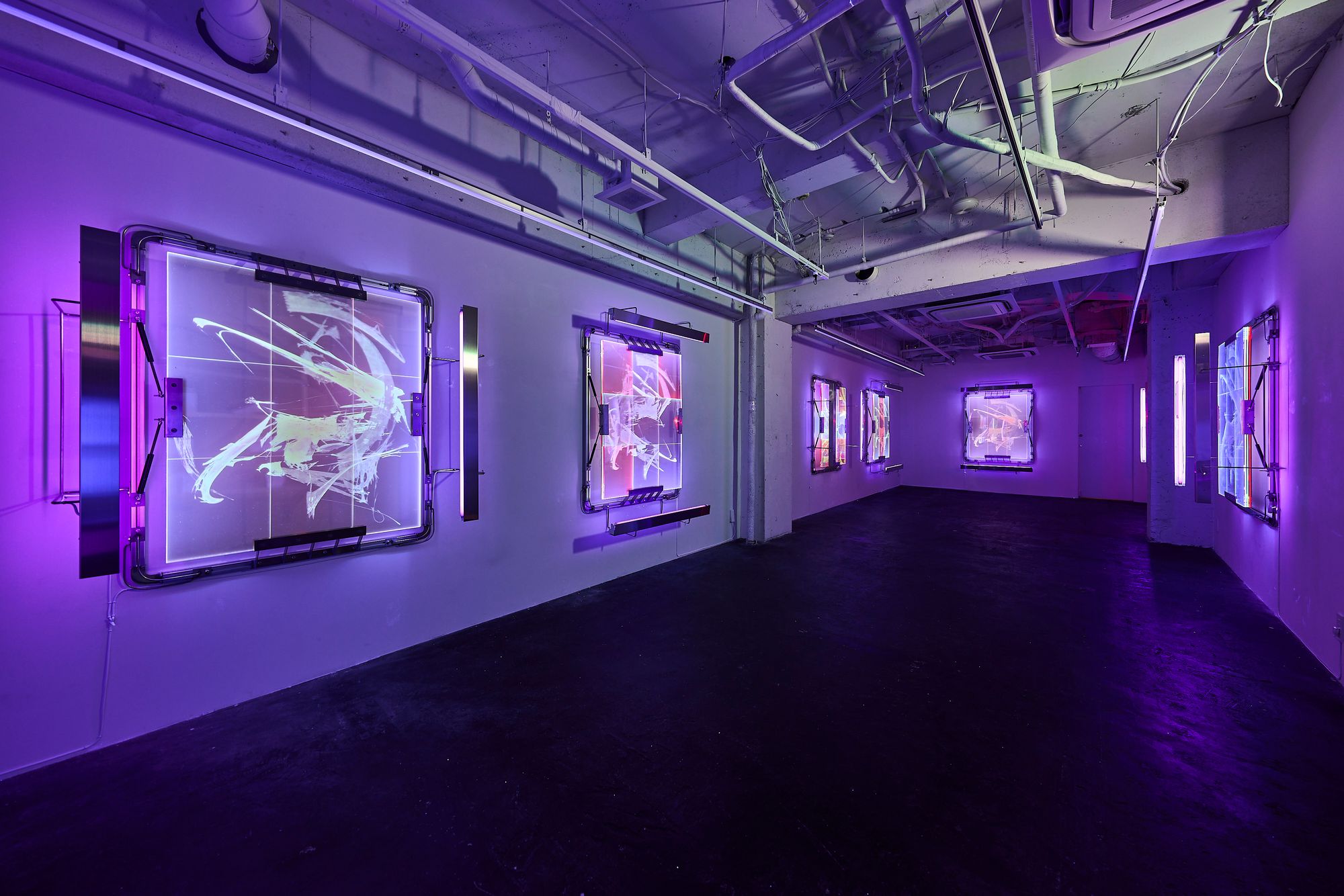 ■ Exh info
THE BOOK OF ARENA
Transcending human life and dimensions. Through the collaboration of poetry and graphic design, we explore the possibilities of shaping the next world.
We are pleased to announce the joint exhibition "THE BOOK OF ARENA" by artist Rintaro Fuse and designer Heijiro Yagi, curated by the CON_ gallery in Nihonbashi Bakurocho, under the umbrella of POST-FAKE projets.
Until now, the two have been expressing together since their early days, with Yagi designing the printed materials for the exhibitions planned by Fuse. However, this will be their first attempt at a joint production. Fuse and Yagi, who say, "Current art and design have become diminished within their individual realities, having lost a superhuman imagination," have been bridging tens of thousands of years of past and future with free quotations and ideas.
The title of this exhibition is borrowed from the novel "The Book of Sand" (1975) by Jorge Luis Borges. In it, there is a book with infinite pages, which disappear when read and can never be found again, no matter how many times they are flipped. The exhibition was conceived as a collaboration between Rintaro Fuse, an artist who handles words such as poetry and critique, and Heijiro Yagi, who designs various words and composes them on paper. The two reexamine the "book" as a venue where words function from the perspectives of artist and designer.
For this collaborative work, the two focused on the "semantic space" created during the learning process of the "Large Language Model (LLM)," which is garnering attention recently. This semantic space is like a dictionary for computers. First, countless texts are input into the computer. From there, countless words are automatically positioned in the ultra-dimensional semantic space, maintaining the relationships between words as vectors. The two were interested in mapping the numerous dimensions of this semantic space into a three-dimensional space to output them as images perceivable by humans. They began pondering, "What happens when you reverse the process of countless words being mapped into the semantic space?" The duo created eight planar artworks and a 2,000-page book using their own CG models as a single semantic space. These works will offer glimpses of different aspects of one semantic space. The "Book of Sand" that the two aim to shape stands in stark contrast to the general-purpose AI that numerous companies and nations are trying to create for everyone.
Through the collaborative work of creating "The Book of Sand," the duo, who conceive a world beyond the human scale with both poetry and graphic design, will explore the potential to shape the next world. We hope you will enjoy seeing how the two express themselves through this exhibition.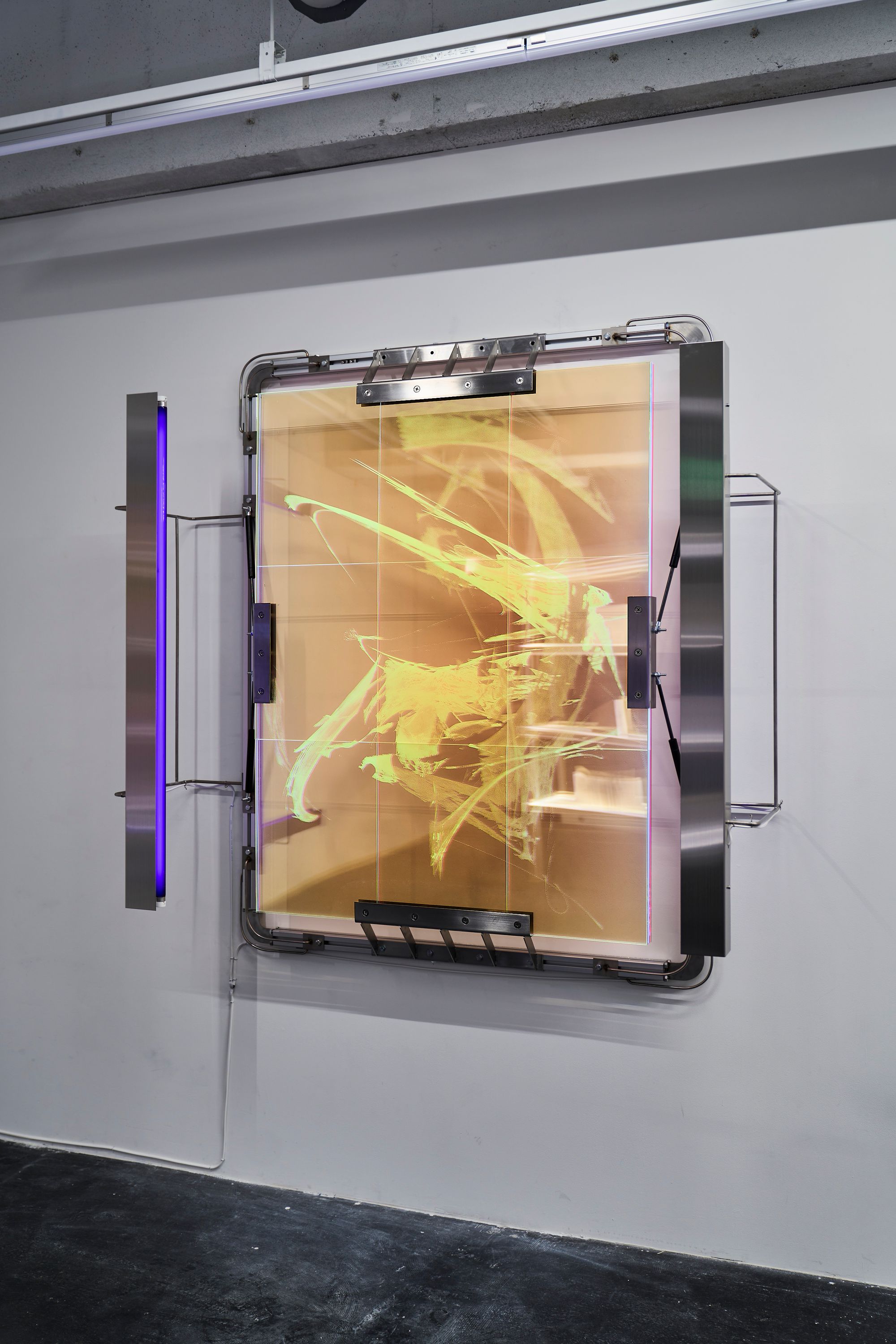 ---
Artist Statement
I have always believed in the power of words. Writing, speaking, weaving them together. But words alone cannot exist. Paper, voice, brain, and architecture are necessary. I wanted to create the "place of origin" where words are born. I wanted to see the landscape there. I tried naming that place "The Book of Sand." I want to explore it with Heijiro Yagi, the designer I trust the most. This attempt is to create a primordial world different from the one past humans traversed and to multiply the ends of a future that humanity might one day pass through. (Rintaro Fuse)
---
Thank you for coming to this remote desert. Soon, an arena will emerge here. What you will witness are the vibrant facets of the sand grains. Humanity's ancient fears have always been remembered by the sand. The voices and characters emitted by all of you are no exception. Even these words. Now, fear is summoned to the sand arena. You might realize it. Every grain of sand that has spilled over will return to your very hands.
A line is made up of countless points, a plane of countless lines. Volume consists of countless planes, and a hyper-volume is made of countless volumes...
—— Jorge Luis Borges (1899–1986)
Let's leave words and such here.
Exit Borges.
Heijiro Yagi binds the Book of Sand. (Heijiro Yagi)
–
Exh Title: 砂の本 THE BOOK OF ARENA
Artist: Rintaro Fuse、Heijiro Yagi
Term/会期: 2023.09.23(SAT)–10.22(SUN)
Opening Reception: 09.23(SAT) 18:00–21:00
Curation: CON_ @con_tokyo_
Graphic Design: 八木幣二郎/Heijiro Yagi @heijiroyagi
Furniture Design: GYOSHA @gy0_sha
Studio Support: 東京建物株式会社 TOKYO IDEA EXCHANGE
Produce: POST-FAKE @post__fake

–
at: POST-FAKE projects @post__fake
3F, 5-2-4 Roppongi, Minato-ku, Tokyo
東京都港区六本木5-2-4 3F
Open: Fri–Sun 13:00–20:00
Closed: Mon, Tue, Wed,Thu, public holiday, otherwise announced 月火水木祝休Web: POST-FAKE
IG: @post__fake

Curation: CON_ @con_tokyo_
maruka 4F, 2-2-14 Nihonbashi Bakurocho, Chuoku, Tokyo
東京都中央区日本橋馬喰町 2-2-14 maruka 4F
Open: Thu-Sun 14:00-19:00
Closed: Mon, Tue, Wed, public holiday, otherwise announced 月火水祝休
Web: https://www.contokyo.com/
IG: https://www.instagram.com/con_tokyo_

■ Artist
Born in 1994. Since the release of the iPhone, he has been exploring the concept of "new solitude" possible in urban environments. Through painting, video works, website production, writing criticisms and poetry, and organizing exhibitions, he collaborates with artists, poets, designers, researchers, musicians, critics, and anonymous individuals.

Notable solo exhibitions include "The New Corpse" (PARCO MUSEUM TOKYO, 2022). He curated exhibitions such as "Planet Zamza" (at the former Kodaka Bookbinding site, 2022) and "Isolation Intense Contact Room" (webpage, 2020). He also participated in exhibitions like "Yves Klein's Imagination Beyond Time" (21st Century Museum of Contemporary Art, Kanazawa, 2022).

Born in 1999 in Tokyo. With graphic design as his core, he excavates the graphical elements that design originally should have had from the future. He works on various graphic designs, including posters and visuals, as well as CD and book designs.

His main solo exhibitions are "Misprint" (2022/The 5th Floor [Nezu, Tokyo]) and "Dynamesh" (2022/T-House New Balance [Suitengu-mae, Tokyo]). He has also participated in exhibitions such as "power/point" (2022/Akibatamabi21 [Suehiro-cho, Tokyo]).