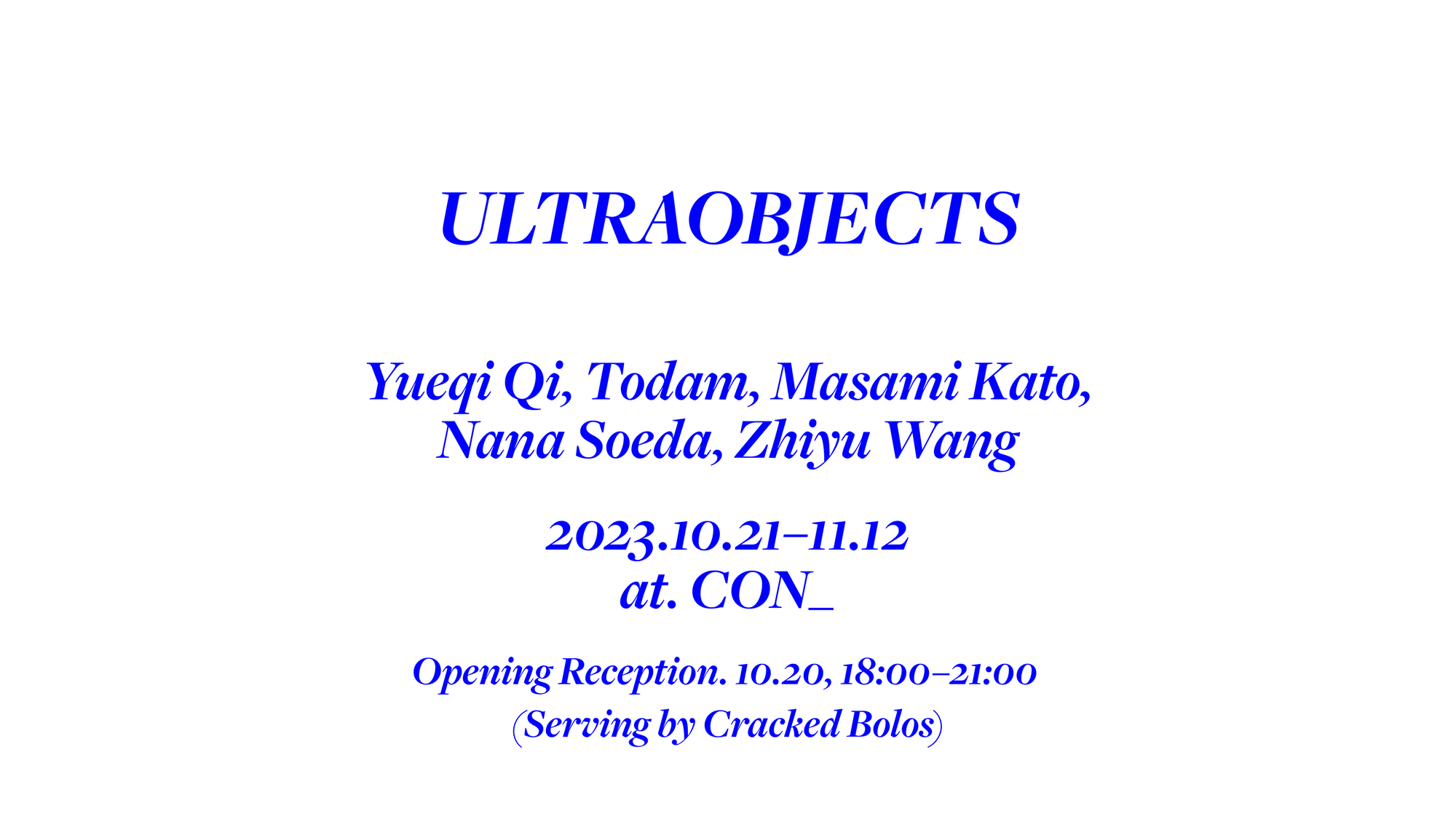 ULTRAOBJECTS
2023.10.21(SAT) - 11.12(SUN)
この度、CON_(東京都中央区日本橋馬喰町2丁目2-14 まるかビル 4F)で、グループ展「ULTRAOBJECTS」を2023年10月21日(土)―11月12日(日) まで開催します。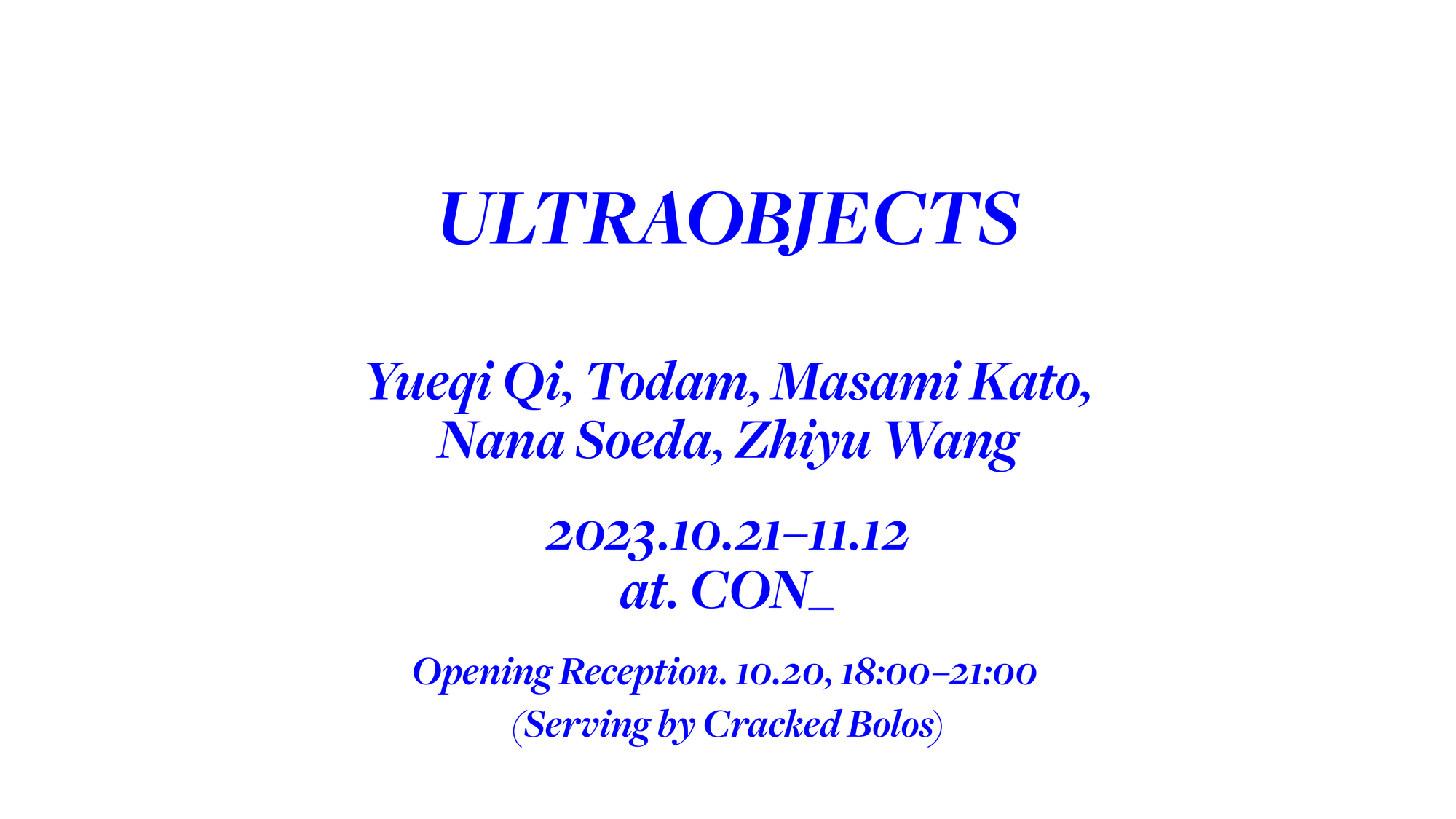 ■ 展覧会情報/Exh info
ULTRAOBJECTS
この度、CON_ではグループ展「ULTRAOBJECTS」を開催いたします。「拡張された領野におけるオブジェクト」をコンセプトに画像的に拡張/展開していく作品群を展示します。
本展は、東アジアをベースとする5名のアーティストによる展示です。2022年にLVMHプライズにヘッドピースで選出された広州を拠点とするファッションデザイナーのYueqi Qiのヘッドピースや韓国をベースとし新しい残像を彫刻するアーティストであるTODAMはキネティックな立体作品などから、オブジェクトについて画像的に捉えなおす試みとします。
また、10/20 18時からのOpening receptionでは、Cracked Bolos @cracked.bolosによるケーキが振る舞われます。こちらも奮ってご参加ください。
CON_ is delighted to present the group exhibition "ULTRAOBJECTS" featuring the works of five artists:Yueqi Qi, Todam, Masami Kato, Nana Soeda,and Zhiyu Wang. Centered around the concept of 'objects in expanded fields,' the exhibition will showcase a collection of works that visually expand and unfold objects within this extended domain. This exhibition features the works of five artists based in East Asia. Among them is Guangzhou -based fashion designer Yueqi Qi, who was selected for the LVMH Prize in 2022, with her headpieces, and TODAM, a Korea-based artist who sculpts new afterimages, who will attempt to visually recapture objects through kinetic three-dimensional works, among others.

Additionally, we invite you to join us for the Opening Reception at 6:00 pm on 10/20, where cakes by Cracked Bolos @cracked.bolos will be served. We eagerly await your participation
Exh Title:ULTRAOBJECTS
Artist:Yueqi Qi @_yueqiqi, Todam @to__dam, Masami Kato @_4____9_, Nana Soeda @wei_wawa, Zhiyu Wang @aprilsekaiii
Term/会期 : 2023.10.21(SAT) - 11.12(SUN)
Opening reception : 10.20(FRI) 18:00-21:00 (Serving by Cracked Bolos @cracked.bolos)
at: CON_ @con_tokyo_
maruka 4F, 2-2-14 Nihonbashi Bakurocho, Chuoku, Tokyo
東京都中央区日本橋馬喰町 2-2-14 maruka 4F
Open : Thu-Sun 14:00-19:00
Closed : Mon, Tue, Wed, public holiday,otherwise announced 月火水祝休Web:https://www.contokyo.com/
IG:https://www.instagram.com/con_tokyo_
■ Artist
2018年にセントラル・セント・マーチンズ美術学校ニットデザイン科を卒業し、CHANELの刺繍アトリエで経験を積みました。2019年に自身の名を冠したブランドを設立し、2020年春夏シーズンの上海ファッションウィークにてコレクションデビュー。

Yueqi Qi graduated from Central Saint Martins in 2018 from the knitwear pathway and previously worked in Paris at CHANEL in the embroidery atelier. Since launching her brand, she has collaborated with Gucci for their inaugural GUCCIFEST as well as their Gucci Vault project. She was selected to join the panel at VOGUE Forces of Fashion 2021, and LVMH Prize semi-finalist 2022. Her goal as a designer is to tell narrative driven stories through the medium of fashion design.
TODAMは、韓国をベースとする思い出を組み合わせて新しい残像を彫刻するアーティストです。彼の多くの作品は身近なものに焦点を当てている一方で、気づかれていなかった側面も明らかにしています。一部の人々にとっては、アーティストが身近なものを提示しているかもしれませんが、別の人にとっては、不慣れな不気味さがあるかもしれません。各視聴者の愛情深いノスタルジアは、奇妙な刺激によって中断され、記憶の個別の再解釈や再創造を示唆しています。アーティストの作品は、大雑把な未完成さとして回想の中に浮かんでいるかもしれませんが、実際には、彼の作品は徹底的なスケッチや数十のモデリングシミュレーションを持つ綿密な計画から作られているため、真の完成に近いものです。不完全なイメージは、視覚的な明快さを通じて完璧さを追求しようとはしません。代わりに、完全に不完全な外見が、誰もが認識する元のイメージを置き換えます。

TODAM is an artist who combines memories to sculpt a new afterimage. Much of his work focuses on the familiar, yet also reveals the side that has been unnoticed. To some, the artist presents the familiar, but to another, an awkward uncanniness. Each viewer's affectionate nostalgia is disrupted by a strange stimulus and suggests individual reinterpretation or recreation of memory.
The artist's work may float in reminiscence as a rough incompleteness, but in actuality, his work is closer to true completion as it is made from a meticulous plan with thorough sketches and dozens of modeling simulations. The imperfect image does not try to reach perfection through visual clarity. Instead, the completely imperfect appearance replaces the original image that everyone recognizes.
1998年生まれ。多摩美術大学美術学部絵画学科版画専攻を卒業後、東京芸術大学美術研修科絵画専攻版画研究室に修士2年生として在学中。「視覚的認識における自己と他者との共鳴」をテーマにアクリル板をマテリアルとした作品を制作。視覚的な世界が交差する複雑な位相を表現する。視覚芸術を通じて新たな洞察とつながりを築くことを目指す。

Born in 1998. After graduating with a specialization in Printmaking from the Faculty of Fine Arts at Tama Art University, she is currently a second-year master's student in the Printmaking Research Studio, Department of Painting, Graduate School of Fine Arts at Tokyo University of the Arts. Her work, which employs acrylic plates as a material, revolves around the theme of 'resonance between self and others in visual perception.' She expresses complex phases where visual worlds intersect. Through visual arts, she aims to forge new insights and connections.
日本とロンドンでアートを学ぶ。アジアのおもちゃ や看板、ガラクタなどに影響を受け、そうした「安っぽさ」への愛情 や、社会の無分別な部分への憤りや悲しみを作品にしている。

Studying art in Japan and London, I draw inspiration from Asian toys, signs, and junk, transforming my affection for their 'cheapness' and my anger and sorrow towards the reckless aspects of society into my works
2022年に東京藝術大学油画専攻を卒業し、現在は東京藝術大学油画技法材料研究室に在籍。彼女は「現代の錬金術師」として、博物学やオカルティズム、心理学などからインスピレーションを得て、生物と非生物、自然と人工物、男と女、陰と陽など相反する性質を結合する。彼女の作品は絵画、彫刻、インスタレーションに及び、多様なメディアを通して新たな調和の世界を提示している。

Graduating with a specialization in Oil Painting from Tokyo University of the Arts in 2022, she is currently affiliated with the Oil Painting Techniques and Materials Research Lab at the same university. Embracing the role of a 'modern-day alchemist,' she draws inspiration from natural history, occultism, and psychology, merging opposing natures such as living and non-living, natural and artificial, male and female, yin and yang. Her works span painting, sculpture, and installation, presenting a new world of harmony through diverse media.